Become a Veteran Project Leader.
We know that your transition out of military service and settling back into your community can be difficult. You are a talented and experienced person with passion and purpose!
Volunteering will strengthen your relationships with your family, fellow service members and community.
Be A Leader - Make Your Community a Better Place for Everyone!
You've already proven that you love America! Use the skills you already have and become a Veteran Project Leader (VPL). Hands On Orlando will empower you to tackle the most pressing challenges in our Central Florida community.
Civic engagement and volunteerism will boost your well-being, help your family and ease your reintegration. (Meet a Veteran Project Leader.)
Enhance Your Skills...It's a WIN-WIN!
Leadership Development
Management Skills
Delegating Experience
Risk Management Awareness
As a Veteran Project Leader you will benefit for a lifetime!
This experience will enhance your skills and could help you get a job, boost your paycheck and make you a happier person.
And you will maximize your positive impact upon the community by managing important volunteer-based projects that assist people who really need you.
As a VPL, you will become a better partner, friend, employee, student, mentor, and leader to people in your life.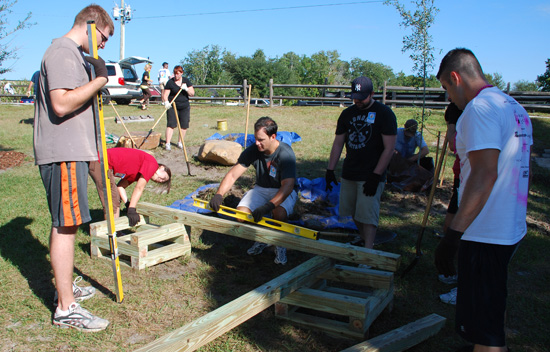 Basic Training
We'll have your back every step of the way!
Your initial training involves a one hour, meaningful and interactive orientation session. You'll see just how much this opportunity is ideally suited for you.
As a VPL you'll also have the opportunity to shadow other Project Leaders.
As a Veteran Project Leader, you'll receive our ongoing training and support.
What's Required of You?
A Veteran Project Leader must be a veteran or related to a USA service member. You must be responsible, reliable, trustworthy, flexible, creative and a caring person.
Based upon the opportunity, the time commitment is minimal!
Sign Up Today!
Contact Hands On Orlando at 407.740.8652 and ask for Brittany, a US Navy Veteran, or email Brittany at Brittany@HandsOnOrlando.com.
-----------------------------------------------
Hands On Orlando's Veteran Project Leader program is made possible due to the extremely generous support of HandsOn Network, through its Frontline Families initiative, and AmeriCorps.